<< Back to Local Community Information
It's happening in Northern Colorado! Here are fun things to do in January...
Fort Collins
|
Loveland
|
Greeley
|
Windsor
|
Johnstown
|
Estes Park
First Friday Art Walk ~ Fort Collins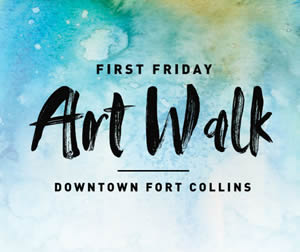 January 3, 2020
Time: 6:00 PM - 9:00 PM
Location: Downtown
Website:
downtownfortcollins.com
First Friday Art Walk is a monthly self-guided walking tour that celebrates creativity, culture, and community in Downtown Fort Collins on the first Friday of each month from 6 – 9 pm. From fine to funky, First Friday Art Walk showcases a spectrum of artistic styles to entertain and engage amateurs and art aficionado of all ages, interests and backgrounds.
Hayden Childress: Mentalist & Magician ~ Fort Collins
January 10, 2020
Location: Lincoln Center
Website:
downtownfortcollins.com
You've never seen a magician like Hayden! Hayden is an award-winning entertainer who has performed for organizations nationwide such as Lowe's and Bank of America, and has been gaining popularity for his original and fast-paced show.
Hayden also recently completed a TED talk on interactive performance. His show is a fun, thought provoking performance which involves the audience directly with each routine. A few of the original routines include modern magic using borrowed audience member's smartphones, demonstrations of mentalism (psychological magic), and surprising, unpredictable close-up magic projected on stage.
Polar Bear Run & Plunge ~ Fort Collins
January 25, 2020
Location: Horsetooth Reservoir
Price: $20-$55
Website:
visitftcollins.com
Calling all runners, walkers, kids & dare devils! Enjoy a beautiful run around the reservoir with views of Fort Collins Foothills. After your run show how brave you are and take the dive into the icy water!
NOT FEELING THAT HARDCORE? No worries! Grab some hot chocolate, a beer or a Horsetooth Hot Sauce Bloody Mary and join the spectators area to watch all the brave souls take the plunge.
Night on the Town ~ Loveland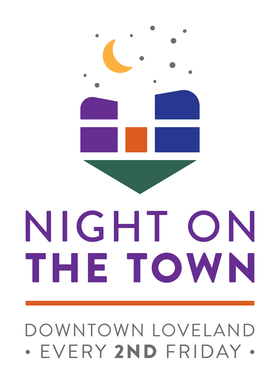 January 10, 2020
Time: 5:00 PM - 9:00 PM
Location: Downtown
Website:
visitlovelandco.org
Night on the Town is Downtown Loveland's "night out" with many art galleries and businesses offering a ready welcome from 5 pm to 9 pm. There's plenty of fine and casual dining, craft beer tasting rooms and retail shops to enjoy. You'll find snacks, live music and sales in multiple locations, all part of an inviting atmosphere and hearty welcome from downtown businesses. It's an opportunity to spend an evening with friends in our downtown.
The Loveland Museum/Gallery remains open on the second Friday of each month from 5 – 9 pm, offering free special events, lectures, and activities as well as free admission to the main gallery exhibits.
Notice as you stroll along 4th Street between Jefferson Avenue and Garfield Avenue there are sculptures (which change annually) that are part of the City of Loveland's "The Art Advocacy Project" known as TAAP for short. It's an easy-to-enjoy outdoor art exhibit!
Night on the Town activities change season to season, so there might be pop-up sales, sidewalk art or pedicabs in summer, or horse carriage rides, hot chocolate or the annual Festival of Lights in winter. Retailers and restaurants may run Night on the Town specials, art galleries have special exhibits and in general, you'll find people strolling 4th Street and often there is music in the air.
Tangible – Magic You Can Get Your Hands On ~ Loveland
January 16 & 30, 2020
Time: Doors open at 7:00 PM, Show starts at 8:00pm
Location: Desk Chair Work Space
Website:
visitlovelandco.org
Bring on the magic and illusion with desk chairs four-part magic series named Tangible, kicking off on January 16th. For the past four years, Magician Daniel Jaspersen has been performing this set of magic exclusively at high-end private house parties. When working for millionaires, the magic must be smart, solid, sophisticated, and a ton of fun. Tangible was born out of a desire for the audience to be deeply engaged in the action, not simply watching. Together the magician and guests get their hands dirty in this intimate magic show.
Daniel Jaspersen is a magician. Not with rabbits sawing ladies in half while levitating and all that. He does magic with your thoughts. Daniel Jaspersen is a mentalist. His casual understated style disarms even the most skeptical guests.
For nearly 15 years Daniel has been performing for Fortune 500 companies including Google, Hitachi, Harley Davidson, Kohl's, and the United States Air Force. In the region, Daniel has been featured at TEDxFrontRange, CSU, The Broadmoor, and private parties throughout the Front Range.
You can see Daniel's performance January 16th, January 30th, February 13th and February 27th. Doors open at 7 PM, show starts at 8 PM. Enjoy $1.00 off specialist cocktails and small bites from Five Tables Café.
Disney Day Character @ The Ice Rink ~ Loveland
January 21, 2020
Time: 2:00 PM - 8:00 PM
Location: Promenade Shops at Centerra
Website:
thepromenadeshopsatcenterra.org
Wear something that represents your favorite Disney character and receive 25% off your admission to skate!
Winter Farmer's Market ~ Greeley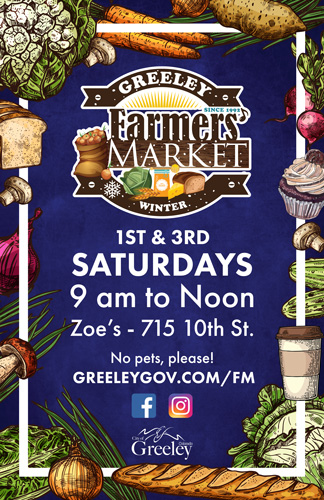 January 4 & 18, 2020
Time: 9:00 AM - 12:00 PM
Location: Zoe's Cafe & Events
Website:
greeleycalendar.com
Real food–Real Farmers–Real Fun. The eighth annual Winter Farmers' Market in Greeley opens on November 2. Come to Winter Market at Zoe's Café and Events located at 715 10th Street. Shop in a fun atmosphere and support local farmers and vendors.
The Winter Farmers' Market is open November through April during the first and third Saturdays of the month.
This season features a great lineup of vendors. Enjoy hardy root crops, winter squash, greenhouse-grown produce, locally raised meat, fresh bread, coffee, honey, savory spices, and more! In addition, special performances, activities, and events occur during the season.
Polar Pedal ~ Greeley
January 18, 2020
Time: 1:30 PM - 4:30 PM
Location: Lincoln Park (East Side)
Website:
greeleycalendar.com
Chill out and ride at the Polar Pedal! Don't miss Greeley's most popular winter biking event the Polar Pedal. Bundle up and bring your bike on Saturday, January 18, at 1:30 p.m. for some frigid fun with friends. Helmets are strongly encouraged. Please dress for the weather.
The 13-mile loop begins and ends in Downtown Greeley. Meet on the East Side of Lincoln Park and complete the ride downtown at your favorite local establishment. The city loop passes through 7 neighborhood parks and highlights just how easy it is to get a good ride in even on a winter day! The route is mapped in the Greeley Bicycle & Pedestrian map.
Post-ride perks offered by our local sponsors. Complete details are coming soon.
Mark Chesnutt & Tracy Byrd Hosted by Brian Gary, Todd Harding and Susan Moore ~ Greeley
January 31, 2020
Location: Union Colony Civic Center
Website:
greeleycalendar.com
Habajeeba, they are back! One year after walking off the Union Colony Civic Center stage as the "Good Morning Guys," Brian Gary, Todd Harding and Susan Moore are ready to make their return to the stage. The first trio ever inducted into the Country Radio Hall of Fame, they have plenty of stories to tell and will be bringing along their brand of humor that has kept Northern Colorado laughing for over three decades. For one unforgettable night only, this trio of personalities and two-time Country Music Association award winners, Mark Chesnutt and Tracy Byrd, are reuniting! Classics from Mark Chesnutt include "Brother Jukebox," "I'll Think of Something," "Bubba Shot the Jukebox" and more. Hits from Tracy Byrd include "Watermelon Crawl," "Don't Take Her She's all I've Got," "Ten Rounds with Jose Cuervo" and countless others. Come for the laughs, stay for the country music. Content may not be suitable for younger audiences.
First Friday Printmaking Party ~ Windsor-Severance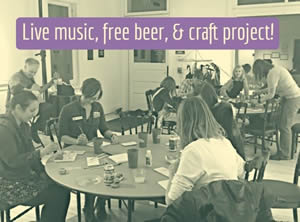 January 3, 2020
Time: 6:00 PM - 8:00 PM
Location: Art & Heritage Center
Website:
windsorgov.com
Experience a special evening viewing of the exhibit "Print Renaissance," featuring artworks by famous print artists, including Andy Warhol, Herbert Bayer, and Claes Oldenburg. Try your hand at printmaking and create your own work of art to take home! Then, enjoy free snacks and live music. Adults 21+ can grab a free beer courtesy of our local beer sponsor.
Mother Daughter Tea Party ~ Windsor-Severance
January 25, 2020
Time: 10:00 AM - 11:30 AM
Locations: Windsor Community Recreation Center Evergreen Room
Website:
windsorgov.com
Join us for a morning filled with petit fours, tea and all things delightful. We'll provide the hot water, tea and light pastries. Have your own tea set? Bring it along? Guests will have the opportunity to decorate their own tea cup and play games. When registering, please sign up mom and each accompanying daughter. Please call 970-674-3500 to register by January 18; online registration is not available. The event is recommended for youth ages 3-12.
Night of the Stars Performance ~ Windsor-Severance
January 26, 2020
Time: 2:00 PM - 5:00 PM
Location: Windsor High School
Website:
windsorgov.com
Show us your talent! K-12 youth can dazzle in this local talent show with options to perform in music, variety, voice and dance categories. The winners from our local Windsor competition will have the chance to compete with youth from other cities in the state competition, sponsored by the PLAaY group through the Colorado Parks and Recreation Association. An information packet will be available online at windsorgov.com/stars and at the CRC front desk. Auditions will take place at the Windsor CRC on January 16. We can't wait to see your skills!
Irving Berlin's Holiday Inn ~ Johnstown-Milliken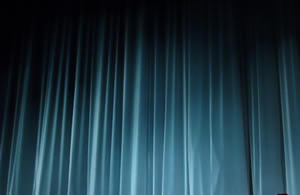 January 1-19, 2020
Location: Candlelight Dinner Theater
Website:
coloradocandlelight.com
Irving Berlin's
Holiday Inn
tells the story of Jim, who leaves show business behind to settle down on his farmhouse in Connecticut… but life just isn't the same without a bit of song and dance. Jim's luck takes a spectacular turn when he meets Linda, a spirited schoolteacher with talent to spare. Together they turn the farmhouse into a fabulous inn with dazzling performances to celebrate each holiday. Based on the classic film, this joyous musical features thrilling dance numbers, laugh-out-loud comedy and a parade of hit Irving Berlin songs, including "Blue Skies," "Steppin' Out With My Baby," "Heat Wave," "White Christmas," "Shaking the Blues Away" and many more.
Bedtime Reading ~ Johnstown-Milliken
January 16, 2020
Location: Milliken Police Station
Website:
johnstownmillikennews.com
Guest reader CEEN Head Start! Join us for nursery rhymes, activities, pizza, milk and cookies.
Jekyll & Hyde ~ Johnstown-Milliken
January 30 - March 29, 2020
Location: Candlelight Dinner Theater
Website:
coloradocandlelight.com
Broadway's Gothic musical thriller,
Jekyll & Hyde
is about Dr. Henry Jekyll who accidentally creates a potion that changes him into a murderous alter ego, Edward Hyde. Jekyll must figure out a way to stop the uncontrollable violent transformations before it results in deadly consequences for his fiancée, Emma, and Lucy, a young woman who has fallen for the doctor. The soaring score features powerful and romantic songs including "This Is The Moment," "In His Eyes," Someone Like You," and "A New Life." No musical has ever held you like this!
Yuletide Lights Driving Tour ~ Estes Park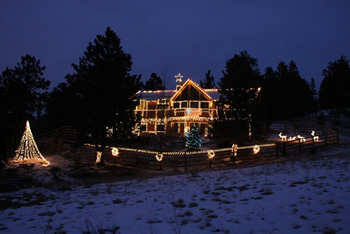 January 1-4, 2020
Location: Throughout the Village of Estes Park
Website:
visitestespark.com
Enjoy the Yuletide Lights Driving Tour in Estes Park this holiday season! Visit festively decorated Estes Park local businesses and residential houses on a self-guided driving tour! Grab some hot chocolate from a local coffee shop and hop in the car to enjoy this tour of Estes Park community members who want to share their holiday spirit with you!
2020 Winter Festival ~ Estes Park
January 18-19, 2020
Location: Estes Park Events Complex
Website:
visitestespark.com
Celebrate the winter season in Estes Park at the Annual Winter Festival weekend! Sample a variety of beers, browse retail vendors, enjoy live entertainment, and more at the Estes Park Event Center!
Snowshoeing Trek-Kids & Families ~ Estes Park
January 25, 2020
Time: 9:00 AM - 1:00 PM
Location: Rocky Mountain Conservancy-Field Institute
Website:
visitestespark.com
Discover the serene beauty of Rocky Mountain National Park in the winter during this four-hour snowshoe hike. This fun and educational program will lead participants through snow-covered pine, spruce and fir forests to learn how plants and animals survive winter using unique adaptations and keen survival skills. Learn about the properties of snow and get outside to enjoy it yourself!