<< Back to Local Community Information
January 2020
|
December 2019
|
November 2019
January 2020
Fort Collins ranks as Top 10 real estate market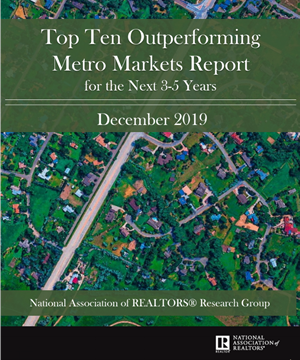 The Fort Collins-Loveland metro area as well as Colorado Springs recently ranked on The National Association of Realtors® Top Ten Outperforming Metro Markets Report. More specifically, they are among the top 10 markets expected to outperform the national real estate market in the next three to five years. Consistent job growth relative to the national average, housing affordability, domestic migration, population age structure, home appreciation and attractiveness for retirees were some of the factors taken into consideration. Click here to view the complete report.
Colorado cities top list of Boomtowns
SmartAsset's 2019 Top Boomtown rankings included Longmont at #1, Greeley at #5 and Denver at #7. Longmont ranked in the top 25% for all metrics taken into account, including GDP growth, unemployment, business growth, housing growth and household income. Click here to read the SmartAsset's 2019 Top Boomtown rankings.
Five Colorado cities ranked as 'Best cities for beer drinkers'
SmartAsset recently released a list of the top 50 cities for beer drinkers and Denver (6th), Fort Collins (18th), Colorado Springs (24th), Boulder (30th) and Loveland (48th) made the cut. Factors taken into consideration included number of breweries per 100,000 residents, average number of beers per brewery, bars per 100,000 residents and the average price for a pint of domestic beer. Click here for the complete set of rankings: smartasset.com.
December 2019
BizWest InSights: Stories of Success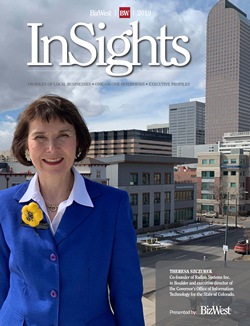 BizWest recently published their latest edition of InSights magazine, a compilation of Northern Colorado and Boulder Valley executive success stories. The regional business-news outlet is featuring at least one new executive profile and one One-on-One question and answer feature each month. You can view the current issue of InSights at: bizwest.com/bw_2019_insights_flyp/.
NoCo Boomers Magazine
The latest edition of Boomer's magazine has been released and is now available for download at: bizwest.com/bw_2020_boomers_flyp/. The publication focuses on issues affecting the Baby Boom generation. Included this year is a report on the greater challenges older workers face when laid off, a story about a critical issues that affects 90% of men as they age - the enlarged prostate, a story about precision medicine and gathering information to treat diseases, and a report about the Fort Collins Veterans Administration clinic.
2019 Governor's Awards
The Governor's Award for High-Impact Research recognizes outstanding achievements of Colorado's scientist and engineers from the state's federally funded research laboratories. Selections are based on projects that have had a significant global, national, or state impact resulting from a scientific breakthrough, change in public policy or development of a new technology. This year's winning projects include one that estimates extreme weather so as to avoid flood risks and improve community resiliency, another centered on methane detection, and a third that detects emission violations of the Montreal Protocol. You can check out the 2019 award recipients and watch their Spotlight Videos at: www.2019govawards.com.
November 2019
BizWest releases 2019 Economic Profile & Market Facts magazine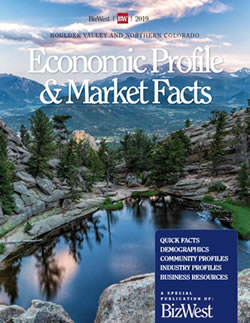 BizWest recently released their 2019 Economic Profile & Market Facts magazine. The publication introduces the region to people who are unfamiliar with the area and serves as a data bank for leaders making regional business decisions. Northern Colorado cities with a population of more than 10,000 as well as all of the major industry sectors in the region are featured in the magazine with individual profiles. Click here to view the 2019 Economic Profile & Market Facts Magazine.
Denver a top place to retire near the mountains
MSN Money recently featured great retirement destinations in each state. Factors taken into account included cost of living, residents' sense of well-being and safety, recreational opportunities, health care facility costs, median incomes and poverty rates for retirement-age residents. Of the 50 featured cities, 20 were selected as great places to retire near the mountains. Denver made the list and was noted for having a healthy and active senior population. Other highlights included economic stability, well funded transit for older adults and ample continuing care. Click here to read the complete report.
Berthoud wins Economic Development Award from IDEC
The International Economic Development Council (IEDC)'s Economic Development Awards recognize economic development programs and partnerships, marketing materials, and influential leaders throughout the world. This year, Berthoud's Business Development Department received an award for the town's commercial development brochure. The brochure provides an overiew of business opportunities in the growing community. Learn more at: berthoudeconomicdevelopment.com